Events
For the first time ever, the Hudson River Valley Ramble is hosting a Photo Contest during the Ramle in September. The Photo Contest challenges event participants to capture the most spectacular moments, natural landscapes, wildlife, historic landmarks, and more. Participants can win prizes and have their photos showcased in next year's Ramble Guide. Visit the Ramble Photo Contest webpage for more info.
Stay up to date, by signing up for our newsletter.
CANCELLED: Walking Tour of Calvert Vaux's The Point in Staatsburg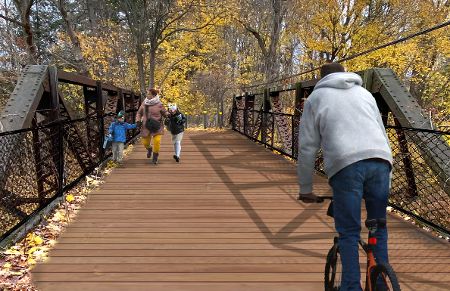 Location
The Point, Mills Norrie State Park, Staatsburg, NY
Mills Norrie State Park
Staatsburg, NY 12580
County: Dutchess
Region: Mid Hudson
Date(s)
September 30, 2023, 1:00PM

Rain Date: October 1, 2023, 1:00PM
Detailed Times/Hours
Parking will be provided on the Staatsburg State Historic Site. The Point landscape is open daily to the public by hiking the Mills Norrie Blue Trail during Park hours.
The Point's carriageways are not suited to walking after heavy rain. September is hurricane season and the tour will be rescheduled in the event the site is too wet for comfortable walking.
Details
Event Type
Walk/Hike
Description
This event has been canceled. Join Calvert Vaux Preservation Alliance (CVPA) for a 1.5 mile hike to experience a crucial underrecognized moment in American design history. Architect Calvert Vaux sited The Point on a promontory overlooking the Hudson River and Catskill Mountains for Lydig and Geraldine Livingston Hoyt in 1855. In his work at The Point, Vaux explored American Picturesque concepts that he would use two years later in the winning Greensward Plan for New York's Central Park developed with Frederick Law Olmsted. CVPA was recently awarded a Parks & Trails Stewardship Grant to repair and reopen the Hoyt Carriageway Bridge that served the historic entry from the Old Post Road in Staatsburg. Please join CVPA in a 60-minute guided tour to learn more about the history and future of The Point!
Organization Hosting the Event
Calvert Vaux Preservation Alliance
Phone Number
845-380-1887
Registration
Advance registration required.
Due to unforeseen circumstances, this event has been CANCELLED. We apologize for any inconvenience.
Additional Information
We will be walking over the lawn and along historic carriage trails that can be somewhat rutted. There is some up and down, but it is not steep. Sandals can be slippery; good walking shoes recommended. Please be aware of Lyme Disease precautions.
Additional Equipment Required:
Walking shoes, sunscreen, bug spray, drinking water. The tour is suitable for children who enjoy history and museums and have a 1-hour attention span. Internet reception in Mills Norrie State Park is very poor.
Event Duration (hours):
1
Difficulty:
Moderate
Not suitable for children under age 10.
Length (miles):
1.5 miles
Boots Needed:
No
Family Friendly
Barrier Free or Wheelchar accessible?
No