Events
For the first time ever, the Hudson River Valley Ramble is hosting a Photo Contest during the Ramle in September. The Photo Contest challenges event participants to capture the most spectacular moments, natural landscapes, wildlife, historic landmarks, and more. Participants can win prizes and have their photos showcased in next year's Ramble Guide. Visit the Ramble Photo Contest webpage for more info.
Stay up to date, by signing up for our newsletter.
US Sailing Basic Keelboat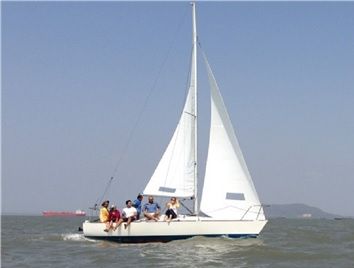 Location
Hudson River Maritime Museum
50 Rondout Landing
Kingston, NY 12401
County: Ulster
Region: Mid Hudson
Date(s)
September 8, 2023, 3:30PM
September 11, 2023, 3:30PM
September 15, 2023, 3:30PM
September 18, 2023, 3:30PM
September 22, 2023, 3:30PM
September 25, 2023, 3:30PM
September 29, 2023, 3:30PM
Details
Event Type
Sailing
Description
US Sailing Basic Keelboat is a 21-hour class takes place on Mondays and Fridays, September 8, 11, 15, 18, 22, 25, and 29, 2023, 3:30 pm- 6:30pm. Students should attend all classes (21 hours). 7 sessions. Taught by US Sailing-Certified instructors and covers many topics which a competent sailor will need to master. Six categories are included: sailing concepts, sailing preparation, first sail, after the first sail, sailing environment, and safety and emergencies. The course will use the "Basic Keelboat" textbook published by the United States Sailing Association, which is included with tuition. The class will be taught primarily on the water, on board the Sailing School keel boats, with some land-based "chalk talks" at the Hudson River Maritime Museum's Wooden Boat School building. Students will practice their on the water skills to gain confidence in operating their vessels. At the end of the course, qualified students will be encouraged to take the test to qualify for the US Sailing Basic Keelboat certification.
Organization Hosting the Event
Sailing School at Hudson River Maritime Museum
Phone Number
8453380071
Registration
Advance registration required.
Register by August 29, 2023.
$600
Additional Information
Additional Equipment Required:
We wish to accommodate everyone, but participants need to be physically able to participate in our sailing classes. Students will need to walk unassisted down a wobbly dock, lift their legs two feet high to step over lifelines when boarding boats, and be able to lift 25 pounds unassisted. Sailing is a sport and requires some agility and quick reflexes. If you are unsure whether you can handle these physical requirements, please reach out to our Sailing Program Director at jsterling@hrmm.org to discuss.
Event Duration (hours):
21
Not suitable for children under age 12.
Barrier Free or Wheelchar accessible?
No