Events
If you haven't already submitted your event, click here. Also, stay tuned with all that is going on in the Hudson Valley with the Hudson River Valley Greenway and National Heritage Area newsletter!
Attention:
- All Mandeville House Tours have been CANCELED.
- Olana's Mingled Flower Garden Tour will now be taking place on September 1st rather than September 21st.
- The Piermont Station Museum will be CLOSED September 8th.
- Sail Through Art History on September 15th has been CANCELED.
Skywalk Arts Festival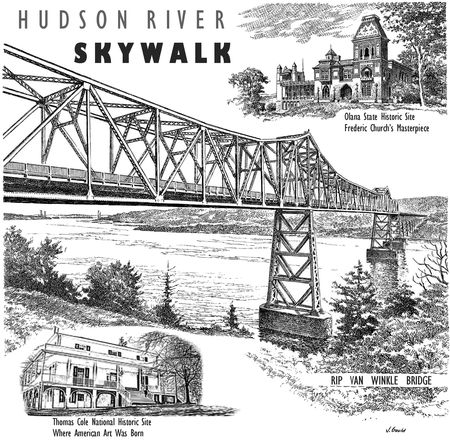 Location
Rip Van Winkle Bridge
99 NY-23
Catskill, NY 12414
County: Greene
Region: Upper Hudson
Date(s)
September 30, 2018, 12:00PM, 12 p.m. to 4 p.m.
Details
Event Type
Fairs and Festivals
Description
Celebrate the art of the Hudson Valley and the Hudson River Skywalk pedestrian crossing, which will eventually connect the homes of master painters Thomas Cole and Frederic Church. Come to the park next to the Rip Van Winkle Bridge's toll plaza in Catskill to view and buy artwork, observe plein air painters along the Skywalk, participate in hands-on art lessons, and hear live music, all in a beautiful setting overlooking the Hudson. This event will be taking place at the same time as other events at the Thomas Cole National Historic Site and Olana State Historic Site. Signs will be set up to direct pedestrians between the bridge and the Thomas Cole site, which is short walk away. Motorists have to pass through Toll Lane 1 (full service lane) in order to enter the parking lot.
Sponsoring Organization
Historic Bridges of the Hudson Valley
Contact Information
csteber@nysba.ny.gov
(518) 943-2360
https://www.facebook.com/HistoricBridgesHudsonValley
Additional Information
Event Duration (hours):
4
Family Friendly
Wheelchair Accessible
Barrier Free or Wheelchar accessible?
Portion
Additional Wheelchair Info:
Overall, the event is wheelchair accessible. Doors to the restrooms are heavy and need to be pushed open. A gallery will be open to view which requires going up stairs. Other than that, the event is flat and accessible.