Events
Stay up to date, by signing up for our newsletter.
Shaken, Not Stirred: The Scoop on Shrubs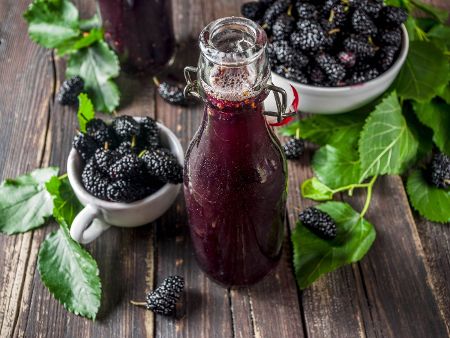 Location
Clermont State Historic Site, Clermont Cottage
87 Clermont Avenue
Germantown, NY 12526
County: Columbia
Region: Upper Hudson
Date(s)
September 10, 2022, 1:00PM
Details
Event Type
Workshop
Description
Join us at our first ever summer mocktail party where we'll be making, mixing, and tasting "everything but the booze". That's right, we'll be exploring the juicy world of "shrubs" (a.k.a. drinking vinegars, a.k.a. super tasty, preserved fruit syrups). Shrubs came about in the 1680s when smugglers were trying to avoid paying import taxes for goods shipped from Europe. These smugglers would sometimes sink barrels of spirits offshore to be retrieved later. Since the salty sea water would often leak in and ruin the flavor of the alcohol, they began to add fruit to the barrels to mask the taste. Shrubs have made a recent comeback in mainstream mixology, and we're ready to celebrate it, as we give summer a proper send-off! While these sweet, fruity concoctions may seem more like a homemade soda on the rocks, you'll be able to take some shrub home with you, along with drink recipes that you can *ahem* alter to your liking. Recommended for ages 8+. Admission is $10 for adults and free for children 12 and under.
Organization Hosting the Event
Friends of Clermont
Phone Number
5185376622
Registration
Advance registration required.
There is no deadline, but these workshops tend to sell out. Visit www.friendsofclermont.org/events to register
Adults: $10; Children 12 and under: Free
Additional Information
Additional Equipment Required:
No
Event Duration (hours):
2
Not suitable for children under age 5.
Family Friendly
Wheelchair Accessible
Barrier Free or Wheelchar accessible?
Yes