Events
If you haven't already submitted your event, click here. Also, stay tuned with all that is going on in the Hudson Valley with the Hudson River Valley Greenway and National Heritage Area newsletter!
Attention:
- All Mandeville House Tours have been CANCELED.
- Olana's Mingled Flower Garden Tour will now be taking place on September 1st rather than September 21st.
- The Piermont Station Museum will be CLOSED September 8th.
- Sail Through Art History on September 15th has been CANCELED.
Senator David Carlucci's Hike with Your Senator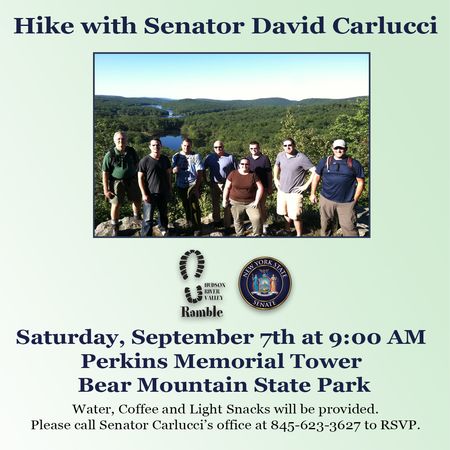 Location
Perkins Memorial Tower
Perkins Memorial Tower Bear Mountain State Park
Bear Mountain, NY, NY 10911
County: Rockland
Region: Lower Hudson
Date(s)
September 7, 2019, 9:00AM
Details
Event Type
Walk/Hike
Description
We will be meeting in the Parking lot at the top of the mountain by Perkins Memorial Tower. The trail is one of the few handicapped accessible trails in the area and provides beautiful 360 degree views. After the hike feel free to climb the 4 story tower and check out the observation area at the top.
Sponsoring Organization
Senator David Carlucci
Contact Information
Mulgrew@NYSenate.Gov
845-623-3627
https://www.facebook.com/davecarlucci
Registration
Advance registration required.
Friday September 6th 845-623-3627
Additional Information
Activities:
Water, coffee and light snacks will be provided.
Event Duration (hours):
2
Difficulty:
Moderate
Length (miles):
3
Path:
Returns to start
Boots Needed:
No
Family Friendly
Wheelchair Accessible
Barrier Free or Wheelchar accessible?
Yes