Events
Events for the 2022 Ramble will be listed sometime after April. Stay up to date, by signing up for our newsletter.
Roe Jan Ramble Bike Tour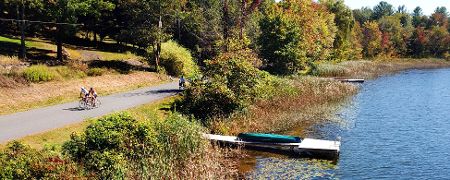 Location
305 Mountain View Rd, Copake, NY 12516
305 Mountain View Rd
Copake, NY 12516
County: Columbia
Region: Upper Hudson
Date(s)
September 17, 2022, 7:30AM, Start times vary. Check www.roejanramble.org
Details
Event Type
Bike Tour
Description
Join us for the 10th anniversary of the Roe Jan Ramble Bike Tour! It's free to all participants and is sponsored by the towns of Copake, Hillsdale and Ancram, NY on the border of Massachusetts. There are six routes to choose from (10, 18, 25, 35, 50 miles & 100km/62.5 miles) on quiet country roads in some of the most beautiful scenery of the Hudson Valley & Taconic foothills you've ever seen. While the ride is free, we encourage donations for the Harlem Valley Rail Trail. Funds raised will be used to connect the trail from Copake Falls, NY to Hillsdale, NY and continue north.
Sponsoring Organization
Roe Jan Ramble Bike Tour
Contact Information
roejanramble@gmail.com
347-952-5764
https://www.facebook.com/roejanramble
Registration
Advance registration required.
Register by Friday, September 16, 2022 at www.roejanramble.org, or email roejanramble@gmail.com for further information.
Additional Information
There are 6 routes from easy (10 miles mostly flat) to expert (62 miles) with steep and hilly terrain. All routes are on paved marked roads and rail trail. Non-competitive ride, travel at your own pace.
Activities:
Longer routes have designated rest stops with water and free snacks. Food for purchase will be available at lunch time at the end of the ride. Registration and parking is free. Donations are encouraged to support the Harlem Valley Rail Trail.
Additional Equipment Required:
Participants must bring their own bicycle and wear a helmet.
Event Duration (hours):
1 to 4 hours
Difficulty:
Moderate
6 years old
Length (miles):
10 to 62
Path:
Returns to start
Family Friendly
Barrier Free or Wheelchar accessible?
Yes