Events
We look forward to an exciting 21st annual Hudson River Valley Ramble in 2020!
Roaring 20's Murder Mystery Dinner Party with Music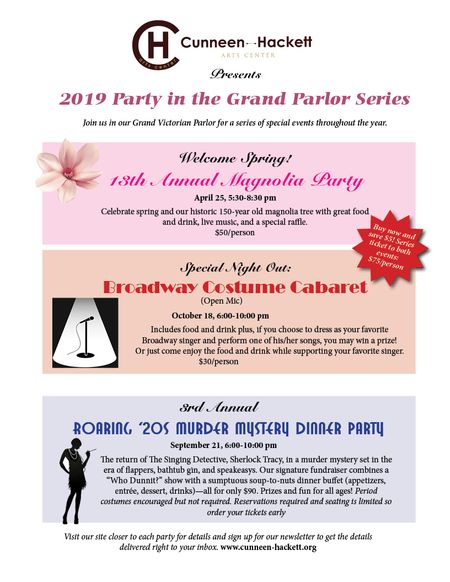 Location
Cunneen-Hackett Arts Center
9 Vassar Street
Poughkeepsie, NY 12601
County: Dutchess
Region: Mid Hudson
Date(s)
September 21, 2019, 6:00PM
Details
Event Type
Murder Mystery Dinner
Description
This is the third Murder Mystery fundraiser dinner for the Cunneen-Hackett Arts Center, a 501(c)3 nonprofit arts organization dedicated to meet the cultural needs of the community. Guests will be asked to help solve a murder mystery while dining and drinking in the historic Grand Parlor at the former Home for Aged Men built in 1881. The dinner helps raise funds for the continuing mission of maintaining and preserving the two landmark buildings which comprise the Arts Center.
Sponsoring Organization
Cunneen-Hackett Arts Center
Contact Information
cunneenexec@hotmail.com
8454864571
https://www.facebook.com/cunneenhackett/
Registration
Advance registration required.
9/20/19 845 486-4571 www.cunneen-hackett.org
$90 per person which includes appetizers, dinner, drinks, dessert and interactive sleuthing to solve the mystery for prizes.
Additional Information
Activities:
This year's play will also have more music like period composers Cole Porter, George Gershwin and Irving Berlin. Sherlock Tracey returns as the Detective who solves crimes by singing snippets of songs.
Additional Equipment Required:
Dressing in period costume for a chance to win prizes.
Event Duration (hours):
3
10 yrs
Family Friendly
Wheelchair Accessible
Walking Distance to Amtrak or Metro North Station
Barrier Free or Wheelchar accessible?
Yes