Events
We look forward to an exciting 21st annual Hudson River Valley Ramble in 2020!
Ramble in the Woods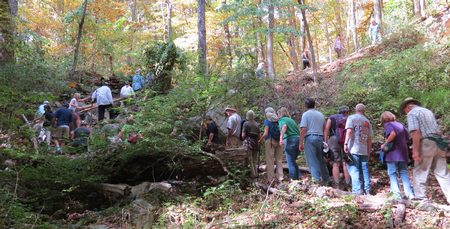 Location
Westchester Wilderness Walk / Zofnass Family Preserve with Westchester Land Trust
~259 Upper Shad Road (Westchester Wilderness Walk / Zofnass Family Preserve entrance
Pound Ridge, NY 10536
County: Westchester
Region: Lower Hudson
Date(s)
September 29, 2019, 10:00AM
Details
Event Type
Walk/Hike
Description
Join Westchester Land Trust staff and preserve visionary, Paul Zofnass, for a 1.5-mile OR 4-mile hike through the winding nature trails of the Westchester Wilderness Walk / Zofnass Family Preserve in Pound Ridge. Discover beautiful wetland systems, majestic woodlands (with rare wildlife), incredible plant diversity, and dramatic rock formations - there is something to inspire every hiker. This program will begin at the trailhead located at 259 Upper Shad Road promptly at 10:00 AM. Hikers will split into smaller groups depending on their preference of distance. **Please park on the North side of Upper Shad Rd.**
Sponsoring Organization
Westchester Land Trust
Contact Information
Kristen@westchesterlandtrust.org
914.234.6992 ext 15
https://www.facebook.com/WestchesterLandTrust/
Registration
Advance registration required.
Registration suggested by September 28, 2019. Please RSVP to Kristen@westchesterlandtrust.org or call 914.234.6992 ext. 15
Additional Information
The short hike (1.5 miles) is mostly easy and flat through a wetland trail that includes a few stepping stones. Stepping stones may be difficult for individuals with severe balance issues. The longer hike (4 miles) requires travel up some moderate ascents, and over rock outcrops. Sturdy footwear is strongly encouraged.
Activities:
Meals before or after the hike are available in nearby Pound Ridge or Bedford Village.
Additional Equipment Required:
Sturdy walking shoes are recommended for both the long and short hike. Participants may wish to bring water, snack, camera, insect repellent, sunscreen, etc. There are NO restroom facilities.
Event Duration (hours):
Approximately 2 1/2 hours
Difficulty:
Moderate
Not suitable for children under age 5.
Length (miles):
Hike will be approximately 3.5 miles.
Path:
Returns to start
Boots Needed:
No
Family Friendly
Barrier Free or Wheelchar accessible?
No