Events
Events for the 2022 Ramble will be listed sometime after April. Stay up to date, by signing up for our newsletter.
Migrating Birds at John Burroughs Slabsides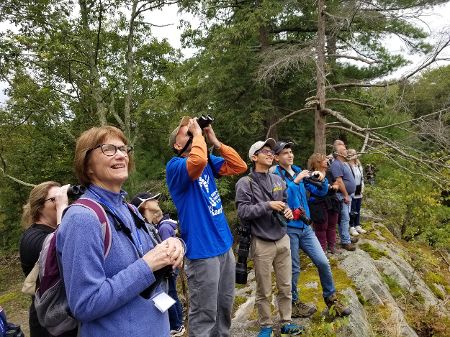 Location
John Burroughs Nature Sanctaury
500 Burroughs Drive
West Park, NY 12493
County: Ulster
Region: Mid Hudson
Date(s)
September 10, 2022, 9:00AM
Details
Event Type
Walk/Hike
Description
Birds were the first love of literary naturalist John Burroughs when he was writing at the turn of the Twentieth Century. Then as now, the land surrounding his cabin Slabsides was abundant with bird life and at this time of year migrating songbirds en route to wintering grounds in South America are stopping off. Discover the richness of tree top bird life through sight and song with Mark DeDea, president of our sister organization, the John Burroughs Natural History Society. Beginning birders through advanced are welcome.
Sponsoring Organization
John Burroughs Association
Contact Information
joan@johnburroughsassociation.org
845-384-6556
https://www.facebook.com/johnburroughsassociation
Registration
Advance registration required.
September 8, 2021
Additional Information
Generally even terrain on well-developed trails, many with stone pathwaysand steps.
Activities:
Tour John Burroughs' 1895 rustic cabin "Slabsides," a National Historic Landmark and Hudson River Valley National Heritage Site of Special Interest. through works written there about nature close at hand, he had a profound impact on the emerging conservation movement. He inspired generations of readers to head out of doors and national leaders to preserve land and its wildlife. Slabsides will be open for tours after the Ramble from Noon to 4:00 pm.
Additional Equipment Required:
Wear sturdy shoes and dress for the weather. Bring binoculars if you have them, and water.
Event Duration (hours):
3
Difficulty:
Moderate
Not suitable for children under age 10.
Length (miles):
1
Path:
Returns to start
Boots Needed:
No
Family Friendly
Barrier Free or Wheelchar accessible?
No