Events
For the first time ever, the Hudson River Valley Ramble is hosting a Photo Contest during the Ramle in September. The Photo Contest challenges event participants to capture the most spectacular moments, natural landscapes, wildlife, historic landmarks, and more. Participants can win prizes and have their photos showcased in next year's Ramble Guide. Visit the Ramble Photo Contest webpage for more info.
Stay up to date, by signing up for our newsletter.
John D. McKean Fireboat Preservation Project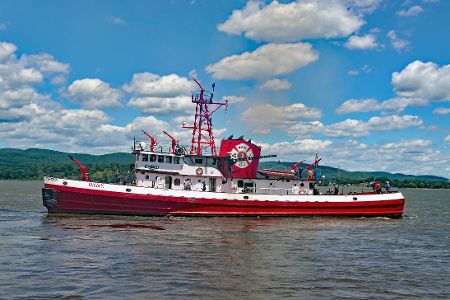 Location
Panco's Stony Point Boat Dock
23 Grassy Point Rd.
Stony Point, NY 10980
County: Rockland
Region: Lower Hudson
Date(s)
September 10, 2023, 12:00PM
September 11, 2023, 12:00PM
September 17, 2023, 12:00PM
September 24, 2023, 12:00PM, Tour ends 5:00pm.
Detailed Times/Hours
With the exception of Monday, September 11th, the tours will be scheduled on Sundays September 10, 17, and 24th. All tours including Monday 09/11/23 will be held from 12:00pm - 5:00pm.
Details
Event Type
Historic Site Tour/History
Description
The Fireboat John D. McKean played a critical role in the maritime evacuation from Manhattan Island following the World Trade Center attacks of 2001. With remarkable resourcefulness and ingenuity, mariners aboard an array of different vessels, including Fireboat John D. McKean, saved an untold number of lives and transported nearly half a million otherwise stranded people off the island in an entirely unplanned evacuation. This was the largest-ever boat lift in history, moving more people, more quickly than even the world-famous evacuation by the "Little Ships of Dunkirk" in 1940. The vessels' crews that day displayed not only compassion, but also creative problem-solving and community solidarity, using the tools, skills, and ingenuity at their disposal to turn a deadly, chaotic situation into an efficient and successful rescue operation. On that day, McKean's FDNY Marine Division crew first used the vessel's massive deck capacity to transport people, many seriously injured, from the debris clouds to safer shores in New Jersey. Then, after watching the collapse of the second tower that killed so many fellow firefighters, they returned to the site to stretch hose lines and pump Hudson River water—the saltwater that would become the only firefighting water available once all hydrants got buried in the rubble. Recognizing the role that Fireboat John D. McKean played in this landmark boat lift is critical to ensuring that we, and future generations, never forget all the heroic rescue efforts of that day—even those made on the water. Preserving this physical treasure—an emblem of our history—will allow people to set foot on the same steel as those who took brave and selfless action to help others in the face of unthinkable horror. We owe our children the chance to walk, literally, in these mariners' footsteps—to help them remember that each of us has the capacity to choose generosity and goodness amid disaster. Future generations, too easily removed from the awful stories of that day, need this vessel as evidence of the compassion, solidarity, and humanity that invariably rises up in the face of terror.
Organization Hosting the Event
The Fireboat McKean Preservation Project, Inc.
Phone Number
9148198792
Registration
Advance registration required.
The registration deadline is 24 hors prior to the listed tour. Please contact: David Rocco coyoteroc@verizon.net
Additional Information
Event Duration (hours):
30-60 minutes
6 years old and older
Family Friendly
Barrier Free or Wheelchar accessible?
No