Events
Events for the 2022 Ramble will be listed sometime after April. Stay up to date, by signing up for our newsletter.
John Burroughs Slabsides Geology Ramble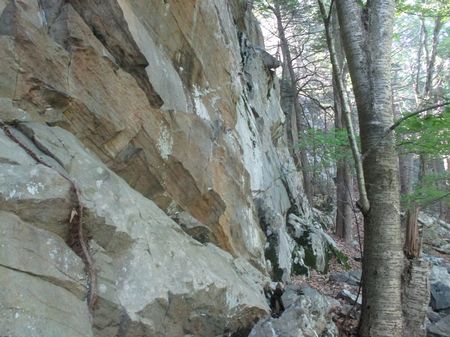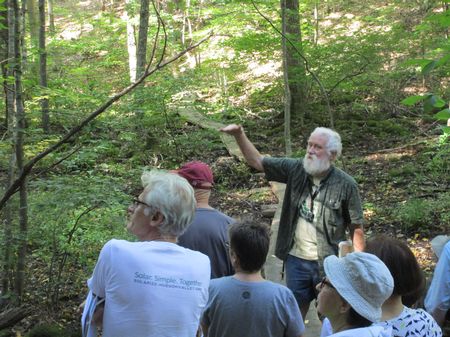 Location
John Burroughs Nature Sanctuary at Slabsides
Burroughs Drive, off Floyd Ackert Rd.
West Park, NY 12493
County: Ulster
Region: Mid Hudson
Date(s)
September 3, 2022, 9:00AM
Details
Event Type
Walk/Hike
Description
The rocks were one of naturalist John Burroughs' favorite aspects of the Slabsides location, but even he did not realize that the rocks represented sediments eroded from a Himalayan-scale mountain range nearly 400 million years ago. Since they were deposited in a shallow sea, the sediments were repeatedly caught in continental collisions which bent them and stood them literally on end. As if that wasn't enough, they were most recently scraped clean by a mile-thick sheet of glacial ice which melted a mere 14,000 years ago. Join Vassar College professor of earth sciences Jeff Walker for hike to read the many stories in the rocks of the John Burroughs Nature Sanctuary. The trails are part of the Hudson River Valley Greenway Trail System. SPACE IS LIMITED. REGISTRATION REQUIRED.
Sponsoring Organization
John Burroughs Association
Contact Information
info@johnburroughsassociation.org
845-384-6556
https://www.facebook.com/JohnBurroughsAssociation
Registration
Advance registration required.
September 1, 2022 info@johnburroughsassociation.org
Additional Information
Tallus piles and some moderately rough terrain on new, well-developed trails, many with stone pathways and steps.
Activities:
Tour John Burroughs' rustic 1895 cabin retreat "Slabsides," a National Historic Landmark and a Hudson River Valley National Heritage Site of Special Interest. Through works written there about nature, John Burroughs had a profound impact on the emerging conservation movement of the late 1800s and early 1900s. He inspired generations of readers to head out of doors and national leaders to preserve land and its wildlife. Slabsides will be open from Noon until 4:00pm.
Additional Equipment Required:
Wear hiking boots or sturdy shoes and considered bringing bring water and bug spray.
Event Duration (hours):
2
Difficulty:
Moderate
Not suitable for children under age 10.
Length (miles):
1.5
Path:
Returns to start
Boots Needed:
No
Family Friendly
Barrier Free or Wheelchar accessible?
No