Events
If you haven't already submitted your event, click here. Also, stay tuned with all that is going on in the Hudson Valley with the Hudson River Valley Greenway and National Heritage Area newsletter!
Attention:
- All Mandeville House Tours have been CANCELED.
- Olana's Mingled Flower Garden Tour will now be taking place on September 1st rather than September 21st.
- The Piermont Station Museum will be CLOSED September 8th.
- Sail Through Art History on September 15th has been CANCELED.
Jacob Blauvelt House Guided Tours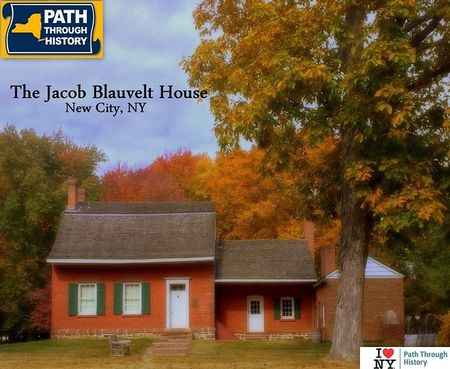 Location
Jacob Blauvelt House/Historical Society of Rockland County
20 Zukor Road
New City, NY NY
County: Rockland
Region: Lower Hudson
Date(s)
September 1, 2019, 1:00PM
September 8, 2019, 1:00PM
September 15, 2019, 1:00PM
September 22, 2019, 1:00PM
September 29, 2019, 1:00PM
Details
Event Type
Historic Site Tour
Description
The architectural style, furnishings, and decorative elements of the Jacob Blauvelt House reflect those of a typical family of Rockland County and the Hudson Valley region in the first half of the nineteenth century. Members of the Blauvelt family lived in the house from its construction in 1832 until 1970, when it was given to the Historical Society. During their more than one hundred years living in the house, the Blauvelts made many changes to it; when the HSRC gained ownership, it was restored to its original period and furnished with Blauvelt family pieces, as well as Rockland County and Lower Hudson Valley pieces from the Society's collection. The Jacob Blauvelt House, a New York State "Paths through History" site, is open for guided tours on Sundays in September 2019 at 1 pm, 2 pm, and 3 pm. Group tours are also available by appointment.
Sponsoring Organization
Historical Society of Rockland County
Contact Information
info@rocklandhistory.org
(845) 634-9629
https://www.facebook.com/TheJacobBlauveltHouse
Registration
$5/person
Additional Information
Activities:
During your visit, enjoy our exhibitions "Influencers: Art and History on South Mountain Road" and "Rockland Voices: Highlights from the HSRC's Permanent Collection." "Influencers" uses objects, archival material, images, and works of art to explore how the landscape of South Mountain Road (Town of Clarkstown) influenced its many residents over the course of the twentieth century and how, in turn, the artists and intellectuals who found inspiration here influenced one another. "Rockland Voices" uses featured objects from the HSRC's permanent collection to help visitors understand the many facets of Rockland's history. The core exhibition explores the Lenape Indians, early Dutch settlers, Benedict Arnold's treason during the Revolutionary War, African slavery in the Hudson Valley, and the evolution of Nyack Turnpike.
Additional Equipment Required:
No
Event Duration (hours):
1.5
Family Friendly
Barrier Free or Wheelchar accessible?
Portion
Additional Wheelchair Info:
Out kitchen is accessible. Interior rooms require ability to negotiate one to two stairs.