Events
We look forward to an exciting 21st annual Hudson River Valley Ramble in 2020!
Hurds Family Farm Cornmaze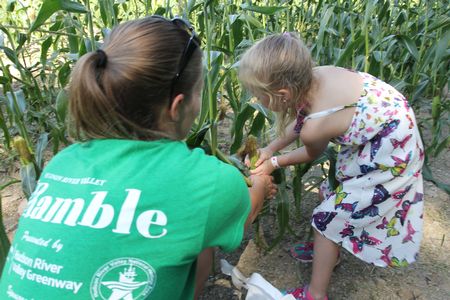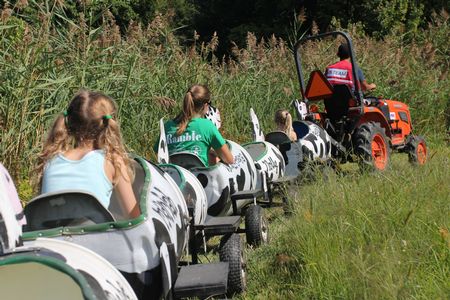 Location
Hurds Family Farm: Meet at Historic Dutch Barn
2187 State Route 32
Modena, NY 12548
County: Ulster
Region: Mid Hudson
Date(s)
September 1, 2019, 9:00AM
September 7, 2019, 9:00AM
September 8, 2019, 9:00AM
September 14, 2019, 9:00AM
September 15, 2019, 9:00AM
September 21, 2019, 9:00AM
September 22, 2019, 9:00AM
September 28, 2019, 9:00AM
September 29, 2019, 9:00AM
Details
Event Type
Walk/Hike
Description
Welcome to Hurds! Join us for a cornmaze adventure to celebrate 125 years as a family farm, 25 years as an agritourism destination, and 10 years as a Hudson River Valley Ramble cornmaze challenge!! You'll love the Wild Apple Obstacle Course using recycled & repurposed farm equipment, tires, pallets, barrels and even a farm truck. Come with friends and family to wander the NEW 2019 apple themed maze.Pick up the maze map to help locate the checkpoint stations, or just walk & you'll discover photo ops where you can be creative and Create your own Memories!! Build spirit, relationships, and strength as your group meanders along the pathways. Plenty of fun, and a bit of learning too. Maze has a mini loop for kids to follow their ABCs and discover Pride of New York foods grown by farm families for their dinner table! Healthy lunch cafe, fresh cider, apple cider donuts. Apples& pumpkins to harvest.Award winning farm with over 30 outdoor activities for all ages. Voted Best Farm to Take the Family. Hudson Valley Magazine.
Sponsoring Organization
Hurds Family Farm
Contact Information
information@hurdsfamilyfarm.com
845-883-7825
www.facebook.com/hurdsfamilyfarm
Registration
Email Information@hurdsfamilyfarm.com or call 845.883.7825 for details.
Additional Information
Clear pathways wide enough for wheelchairs and people walking side by side through 10 ft. high cornfield! However you must wander through varied terrain and along boardwalks to get to location.
Event Duration (hours):
one half hour
Difficulty:
Easy
Length (miles):
one mile
Path:
Returns to start
Boots Needed:
No
Family Friendly
Wheelchair Accessible
Barrier Free or Wheelchar accessible?
Yes