Events
Hurds Family Farm Cornmaze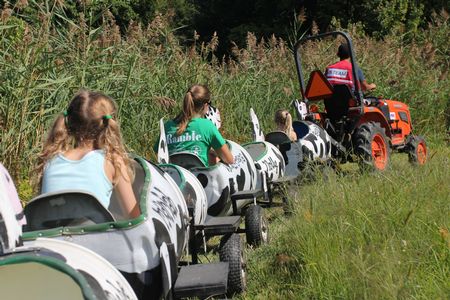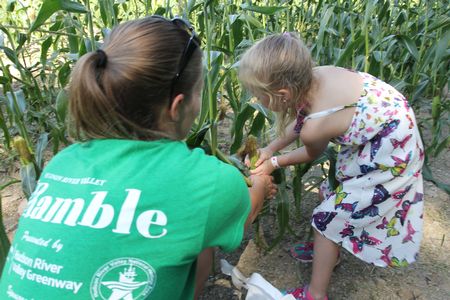 Location
Hurds Family Farm: Meet at Historic Dutch Barn
2187 State Route 32
Modena, NY 12548
County: Ulster
Region: Mid Hudson
Date(s)
September 1, 2018, 10:00AM
September 2, 2018, 10:00AM
September 8, 2018, 10:00AM
September 9, 2018, 10:00AM
September 15, 2018, 10:00AM
September 16, 2018, 10:00AM
September 22, 2018, 10:00AM
September 23, 2018, 10:00AM
September 29, 2018, 10:00AM
September 30, 2018, 10:00AM
Details
Event Type
Walk/Hike
Description
Join us for a family outing through our NEW themed cornfield maze "Family, Friends & Fun"! Meet the Maze Master who will hand you a maze map design to help brush up on those map reading skills...lots of fun, with a bit of learning too!! Challenge your group to discover the 6 stations hidden along the pathways playing a farm themed Clue type game. The Hurds have added an Animal Track game for the little guys through a small portion of the big maze. This mini maze is clearly marked by flagging tape on both sides of the pathways. We will not lose wee lads and lassies as they discover, by track rubbings, the 6 animals who devoured the farmer's apple pie! Come make a day for the family and together enjoy fresh air, exercise and 30 plus Outdoor Activities.
Sponsoring Organization
Hurds Family Farm
Contact Information
information@hurdsfamilyfarm.com
845-883-7825
www.facebook.com/hurdsfamilyfarm
Registration
Email Information@hurdsfamilyfarm.com or call 845.883.7825 for details.
Additional Information
Clear pathways wide enough for wheelchairs and people walking side by side through 10 ft. high cornfield! However you must wander through varied terrain and along boardwalks to get to location.
Event Duration (hours):
one half hour
Difficulty:
Easy
Length (miles):
one mile
Path:
Returns to start
Boots Needed:
No
Family Friendly
Wheelchair Accessible
Barrier Free or Wheelchar accessible?
Yes