Events
For the first time ever, the Hudson River Valley Ramble is hosting a Photo Contest during the Ramle in September. The Photo Contest challenges event participants to capture the most spectacular moments, natural landscapes, wildlife, historic landmarks, and more. Participants can win prizes and have their photos showcased in next year's Ramble Guide. Visit the Ramble Photo Contest webpage for more info.
Stay up to date, by signing up for our newsletter.
Harvest Festival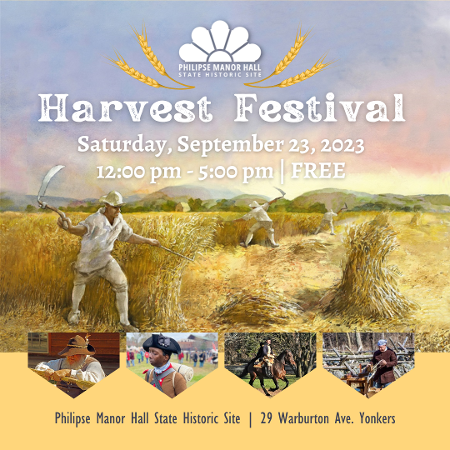 Location
Philipse Manor Hall State Historic Site
29 Warburton Ave.
Yonkers, NY 10701
County: Westchester
Region: Lower Hudson
Date(s)
September 23, 2023, 12:00PM
Detailed Times/Hours
Open 12:00 PM to 5:00 PM
Details
Event Type
Fairs and Festivals
Description
Step back in time to the late 18th century! This free family-friendly outdoor festival will feature costumed reenactors and hands-on activities. September was the time of year when tenant farmers on the Philipse Manor would harvest their wheat and start to bring it to the Philipse grist mills for assessment and grinding into flour. September was also apple harvest time in the Philipse orchards. Try your hand at grinding grain in a stone mill, grinding up apples for cider in a cider press, and other hands-on activities. Meet military and civilian reenactors, including General George Washington and his horse Nelson, members of Lord Dunmore's Ethiopian Regiment and the First Rhode Island Regiment, colonial era craftsmen, and more. Play colonial-era games and learn more about the history of Westchester County before and during the American Revolution. Festival coincides with Yonkers RiverFest, featuring music, shopping, and food. Spend the day!
Organization Hosting the Event
Friends of Philipse Manor Hall, Philipse Manor Hall State Historic Site
Phone Number
914-965-4027
Additional Information
Event Duration (hours):
5
Family Friendly
Wheelchair Accessible
Walking Distance to Amtrak or Metro North Station
Barrier Free or Wheelchar accessible?
Yes