Events
Due to the ongoing pandemic, the 2020 Hudson River Valley Ramble has been canceled. For virtual event listings or self-guided tours in the Hudson Valley, please visit the Hudson River Valley National Heritage Area's event listings. Stay up to date, by signing up for our newsletter.
Great Wallkill River Race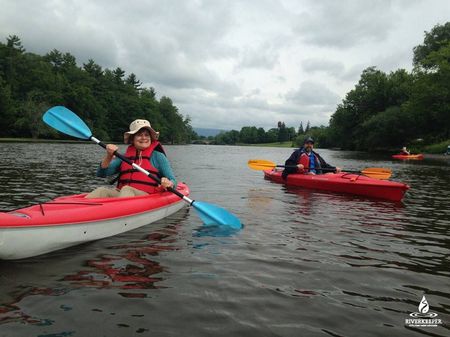 Location
Sojourner Truth Park
55 Plains Road
New Paltz, NY 12561
County: Ulster
Region: Mid Hudson
Date(s)
September 14, 2019, 10:00AM, There will be different heats, starting at staggered times. Depending on how many people register, the event will end between 1-3pm.
Rain Date: September 15, 2019, 10:00AM
Details
Event Type
Paddle
Description
A fun race to get people out on the Wallkill River, to enjoy its scenic beauty and the serenity of being on a flat water, slow moving river. Children are welcome with adult supervision. There will be different race categories, such as recreational kayak, canoe, racing kayak, or other craft. Racers will launch from Sojourner Truth Park in New Paltz and head downstream 0.5 mile to the River to Ridge trailhead and return to finish at the same starting point. Boat drop off begins anytime after 9am. Launching boats into the water begins at 10am. The race will start at 11am. All racers will begin at that time.
Sponsoring Organization
Wallkill River Watershed Alliance
Contact Information
marthascheo@gmail.com
8452569316
www.facebook.com/wallkillriver
Registration
Advance registration required.
Visit www.wallkillalliance.org/race
$25 plus kayak rental
Additional Information
Flat water. 1 mile round trip. Half mile with the current, then turn around and half mile against the current.
Activities:
There will be a mini festival at the end with prizes, live music, picnicking, some food available for purchase, and environmentally-oriented educational booths and activities for children. The event will end sometime between 1:00-2:00pm.
Additional Equipment Required:
Boats and PFDs will be provided if reserved in advance for an extra fee of $10. Racers can bring their own kayak, canoe or other craft. PFDs are required. Bring lunch.
Event Duration (hours):
1 hour
Lunch Break:
Yes
Bring your own lunch.
Difficulty:
Easy
Not suitable for children under age 5.
Length (miles):
1
Boat:
Boat provided.
Family Friendly
Barrier Free or Wheelchar accessible?
No