Events
Stay up to date, by signing up for our newsletter.
Gravestone Cleaning Workshop at the Vails Gate United Methodist Church Cemetery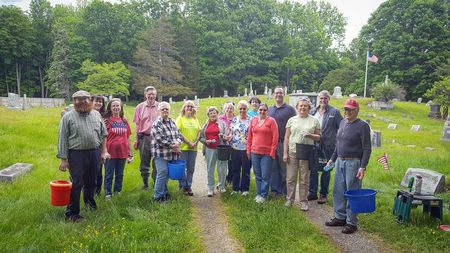 Location
Vails Gate United Methodist Church Cemetery
854 Blooming Grove Turnpike
New Windsor, NY 12553
County: Orange
Region: Mid Hudson
Date(s)
September 18, 2021, 11:00AM, The event will still take place in light rain, however if there are storms we will need to postpone to a date yet to be determined.
Details
Event Type
Gravestone Cleaning Workshop
Description
Marianne Greenfield, proprietor of Gravestone Cleaning Service, will instruct up to 16 participants on the proper techniques of caring for gravestones. She will begin with a quick talk about the only recommended method of cleaning and then the hands-on portion of the workshop will begin. Expect to get a bit dirty - the results will be worth it!
Sponsoring Organization
Office of the Orange County Historian
Contact Information
NNazzaro@orangecountygov.com
(845) 360-6978
https://www.facebook.com/orangecountyhistoryandheritage
Registration
Advance registration required.
There are only 16 spots are available for this event. Interested participants must register by Tuesday, September 14th. Please contact Nicole Nazzaro by email at NNazzaro@orangecountygov.com to register.
Additional Information
Additional Equipment Required:
Each participant is asked to bring the following: 1. New, clean plastic pail. 2. New nylon or plastic bristle scrub brush (be sure it fits in your hand in the pail). Both pail and brush can be from the dollar store. 3. One pair of new, unused wooden chopsticks. 4. A gallon jug of water (used to clean the gravestones as there is limited water access at this cemetery). 5. Own drinking water, insect repellent, bag lunch or snack, if needed.
Event Duration (hours):
2
Not suitable for children under age 12.
Barrier Free or Wheelchar accessible?
No