Events
We look forward to an exciting 21st annual Hudson River Valley Ramble in 2020!
Forest Therapy Walk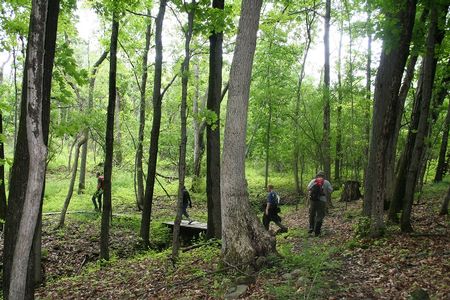 Location
Greenport Conservation Area
319 Joslen Blvd
Greenport, NY 12534
County: Columbia
Region: Upper Hudson
Date(s)
September 21, 2019, 11:00AM
Details
Event Type
Forest Therapy Walk
Description
On this ramble led by Jill Jakimetz at Greenport Conservation Area we will slow down, relax, unplug, and tune in. We will meet at the main parking area, share introductions, then go through a series of gentle invitations to open our senses and connect with the natural world. These invitations may include wandering, sitting, standing, and just noticing. There will be opportunities for sharing as well as for solitude. We will travel up to one mile. You may be surprised how fast time moves when we settle into our bodies in the natural world. Forest therapy is based on shinrin yoku, forest bathing, a restorative practice standard to preventative medical care in Japan for the past 30 years. Deepening our connection within the natural world opens us to nature's healing medicine. Scientific research reminds us that opening our senses to the natural world supports our immune system, increases blood flow to the brain leading to clearer and creative thinking, lowers stress hormones and blood pressure, while increasing activity in the parasympathetic nervous system, helping us to "rest and digest."
Sponsoring Organization
Columbia Land Conservancy, Inc
Contact Information
heidi.bock@clctrust.org
5183925252
https://www.facebook.com/ColumbiaLandConservancy/
Registration
Advance registration required.
Please register by Thursday September 19th, at clctrust.org/event
Additional Information
Additional Equipment Required:
Please wear clothes and shoes appropriate for the weather, plus an extra layer. Bring something to sit on, such as a camp chair, yoga mat, or old blanket. You may wish to carry a light backpack to keep your hands free during the walk. At the end of the walk, we will share snacks and tea made from native plants of the Hudson Valley. Please share any allergies when you register.
Event Duration (hours):
2
Not suitable for children under age 12.
Barrier Free or Wheelchar accessible?
No