Events
We look forward to an exciting 21st annual Hudson River Valley Ramble in 2020!
Five Porch Farm: Where History & A River Run Through It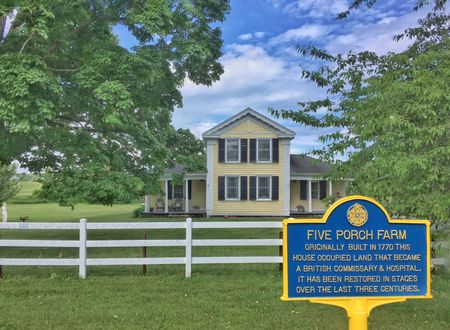 Location
Northumberland
883 W River Rd
Gansevoort, NY 12831-2133
County: Saratoga
Region: Upper Hudson
Date(s)
September 14, 2019, 9:00AM
Details
Event Type
Historic Site Tour
Description
Five Porch Farm is located directly on the Hudson River in Northumberland, about halfway between Ft Edward and Schuylerville. It was the farm of a captain in the Colonial forces before the Battle of Saratoga and was occupied by Burgoyne's forces who used the river-accessible, flat acres as a hospital and commissary. The farm has been restored over the centuries and provides a peaceful spot to appreciate history and enjoy beautiful natural surroundings.
Sponsoring Organization
5P Farm
Contact Information
us@fiveporch.farm
(518) 893-1059
www.facebook.com/fiveporchfarm
Additional Information
Additional Equipment Required:
Nope.
Family Friendly
Barrier Free or Wheelchar accessible?
Portion
Additional Wheelchair Info:
The grounds are accessible but the house requires walking up a step.