Events
If you haven't already submitted your event, click here. Also, stay tuned with all that is going on in the Hudson Valley with the Hudson River Valley Greenway and National Heritage Area newsletter!
Attention:
- All Mandeville House Tours have been CANCELED.
- Olana's Mingled Flower Garden Tour will now be taking place on September 1st rather than September 21st.
- The Piermont Station Museum will be CLOSED September 8th.
- Sail Through Art History on September 15th has been CANCELED.
Family Farm Festival @ Stuart's Fruit Farm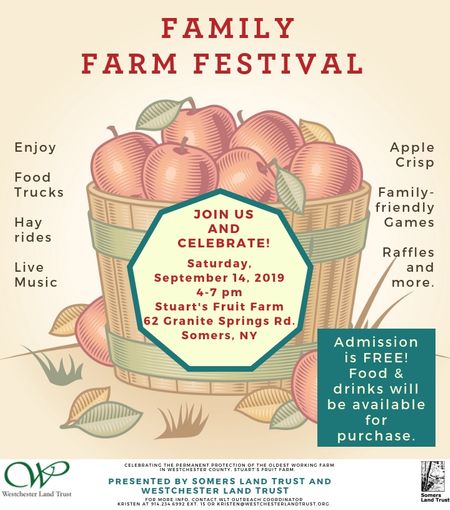 Location
Stuart's Fruit Farm
62 Granite Springs Rd
Somers, NY 10507
County: Westchester
Region: Lower Hudson
Date(s)
September 14, 2019, 4:00PM
Details
Event Type
Fairs and Festivals
Description
On Saturday, September 14th, from 4 PM – 7 PM, Westchester Land Trust and Somers Land Trust will co-host the 2nd Annual Family Farm Festival at Stuart's Fruit Farm in Somers, New York. Admission is free! We invite you to join us for LIVE music, games, face painting, raffles, and so much more! Food and beer will be available for purchase. This event is in celebration of the preservation of Stuart's Fruit Farm, the oldest working farm in Westchester County, dating back to 1828. In April of 2018, Westchester Land Trust (WLT) completed a conservation easement that extinguished the development rights on the farm's 172 acres thereby ensuring the land remains available for agricultural use forever. WLT's partners included New York State, Westchester County, the Town of Somers, Scenic Hudson Land Trust and Somers Land Trust.
Sponsoring Organization
Westchester Land Trust & Somers Land Trust
Contact Information
Kristen@westchesterlandtrust.org
914-234-6992x15
https://www.facebook.com/WestchesterLandTrust/
Additional Information
Activities:
In addition, there will be a corn maze and hay rides.
Event Duration (hours):
3 hrs
N/A
Family Friendly
Barrier Free or Wheelchar accessible?
Yes