Events
Stay up to date, by signing up for our newsletter.
Family Adventure Tour of Untermyer Gardens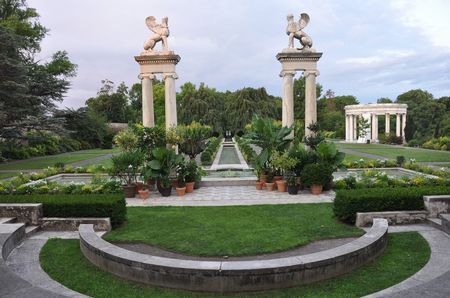 Location
Untermyer Park & Gardens
945 North Broadway
Yonkers, NY 10701
County: Westchester
Region: Lower Hudson
Date(s)
September 5, 2021, 10:00AM, one hour
September 12, 2021, 10:00AM, one hour
September 19, 2021, 10:00AM, one hour
September 26, 2021, 10:00AM, one hour
Details
Event Type
Historic Site Tour/History
Description
Our guides will engage your kids in a lively exchange about plants, mythology, architecture, sculpture and ruins. This tour is intended for children between 7-12 who must be accompanied by at least one adult. Each tour date will cover one of 3 sections of the Garden. Register for each tour separately. Walled Garden (August 29, September 19) Learn about Artemis, Medusa and the sphinx, why the Walled Garden is built like a fortress and discover the ancient symbolism of its four canals. Learn about the secret histories of plants: trees from the weeping beech to the monkey puzzle tree, aquatic plants like papyrus and lotus and their place in Egyptian history and then stop to smell the roses. Spend a moment finding the mosaic sea creatures on the bottom of an abandoned swimming pool. This tour is stroller-friendly. Vista through Ruin Garden (September 5, 26) Count the steps on the Vista while peeking at the old Color Gardens. Learn about the ancient Roman columns and how they were made. Identify the geometric shapes of the new Ornamental Vegetable Garden. Admire the ancient oaks in the Rhododendron Walk---alive, decaying and dead. Explore the Ruin Garden, with its hidden alley, secret grotto, graffiti covered walls and restored unicorn. This tour is NOT stroller accessible. Temple of Love to Dell (September 12) The Temple of Love is a feast for the eye with multiple water courses and rock formations. Many weeping plants echo this form. Walk through the tulip forest and see the giant twin tulips. See the restored Dell fountain and learn about the Old Croton Aqueduct weir. Climb back up to see the ruined Sundial Garden site and the Rock and Stream Garden with its Mughal throne surrounded by water and the anthropomorphic spruces. This tour is NOT stroller accessible.
Sponsoring Organization
Untermyer Gardens Conservancy
Contact Information
gardens@untermyergardens.org
9146134502
https://www.facebook.com/UntermyerGardens/
Registration
Advance registration required.
Purchase tickets in advance using this link: https://www.untermyergardens.org/tours2.html
$12
Additional Information
Event Duration (hours):
1
Family Friendly
Walking Distance to Amtrak or Metro North Station
Barrier Free or Wheelchar accessible?
Portion
Additional Wheelchair Info:
The Walled Garden portion of the tour is accessible.