Events
If you haven't already submitted your event, click here. Also, stay tuned with all that is going on in the Hudson Valley with the Hudson River Valley Greenway and National Heritage Area newsletter!
Attention:
- All Mandeville House Tours have been CANCELED.
- Olana's Mingled Flower Garden Tour will now be taking place on September 1st rather than September 21st.
- The Piermont Station Museum will be CLOSED September 8th.
- Sail Through Art History on September 15th has been CANCELED.
Esopus Meadows Lighthouse Tour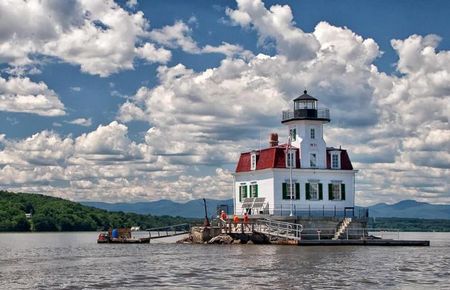 Location
50 Rondout Landing Kingston, NY
50 Rondout Landing
Kingston, NY 12401
County: Ulster
Region: Mid Hudson
Date(s)
September 1, 2019, 9:30AM
September 15, 2019, 9:30AM
September 29, 2019, 9:30AM
Details
Event Type
Historic Site Tour
Description
Visit the Esopus Meadows Lighthouse Aboard a 100% Solar Powered Boat Built by the Hudson River Maritime Museum! Take a guided tour of the interior of the historic 1871 Esopus Meadows Lighthouse! Located off of Black Creek in the Town of Esopus, this lighthouse marked the "Esopus Meadows," a shallow marshy area stretching from the west side of the Hudson River out near the navigation channel. The only wooden lighthouse left on the Hudson River, you can tour this restored lighthouse and visit with knowledgeable volunteers throughout the house. Access to the tower is by wooden ladder.
Sponsoring Organization
Hudson River Maritime Museum
Contact Information
swassberg@hrmm.org
8453380071
Registration
Advance registration required.
Registration deadline midnight the night before departure. To register, visit www.solarboattours.org or call 845-338-0071.
All tickets include boat ride, and guided tour of the interior of the lighthouse. Adult (12-61): $45 Senior (62+): $42 Please note, for safety reasons, children under the age of 12 are not allowed at the Esopus Meadows Lighthouse.
Additional Information
Event Duration (hours):
3
Not suitable for children under age 12.
Barrier Free or Wheelchar accessible?
No