Events
For the first time ever, the Hudson River Valley Ramble is hosting a Photo Contest during the Ramle in September. The Photo Contest challenges event participants to capture the most spectacular moments, natural landscapes, wildlife, historic landmarks, and more. Participants can win prizes and have their photos showcased in next year's Ramble Guide. Visit the Ramble Photo Contest webpage for more info.
Stay up to date, by signing up for our newsletter.
Dual Lighthouse Tour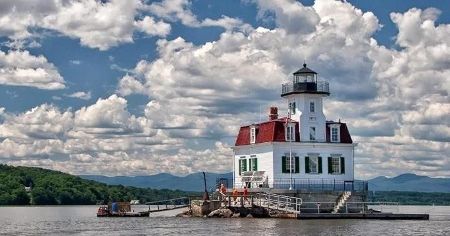 Location
Hudson River Maritime Museum
50 Rondout Landing
Kingston, NY 12401
County: Ulster
Region: Mid Hudson
Date(s)
September 3, 2023, 10:00AM
September 10, 2023, 10:00AM
September 17, 2023, 10:00AM
September 24, 2023, 10:00AM
Details
Event Type
Hudson River Estuary Exploration/Environmental Education
Description
View the Kingston Rondout Lighthouse and the Esopus Meadows Lighthouse the way mariners do: from the water! Experience stunning views of the Esopus Meadows and Rondout Lighthouses on the Hudson River during this popular two-hour cruise! These are two of the remaining seven lighthouses on the Hudson River. Each has a long history as a beacon of light for mariners and home to lighthouse keepers and their families. Marking the entrance to Rondout Creek (Kingston, NY), the Rondout Lighthouse is a beautiful yellow brick structure. Completed in 1915 it is still a working navigational light. Located off of Black Creek in the Town of Esopus, the Esopus Meadows Lighthouse warned mariners away from the "Esopus Meadows", a shallow marshy area that the lighthouse is named after. Finished in 1871, it is the only wooden lighthouse left on the Hudson River. Please note: On this sightseeing cruise, Solaris does not stop at either lighthouse. To visit the interiors of the Rondout Lighthouse please register for the Rondout Lighthouse Tour .
Organization Hosting the Event
Hudson River Maritime Museum
Phone Number
8453380071
Registration
Advance registration required.
Book online in advance at https://www.hrmm.org/all-boat-tours.html
Prices $35 Adults 13-61 $31 Children 6-12 yrs $33 Seniors 62+ $29 Small Children (5 years old and under)
Additional Information
Event Duration (hours):
2
Barrier Free or Wheelchar accessible?
No