Events
Events for the 2022 Ramble will be listed sometime after April. Stay up to date, by signing up for our newsletter.
Dobbs Ferry Road to Freedom Walk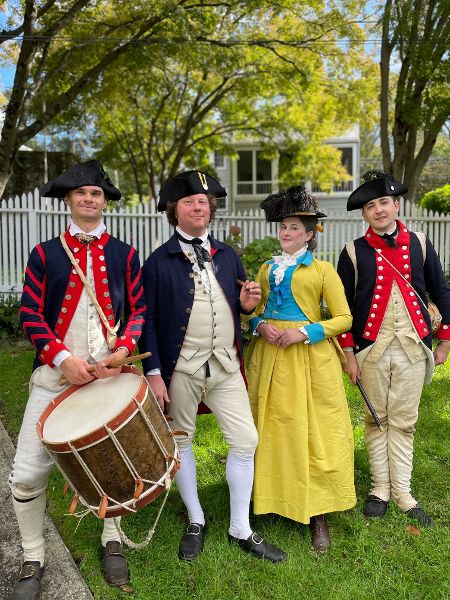 Location
Starts at Gould Park, Dobbs Ferry; Continues at Mead House, 12 Elm Street, Dobbs Ferry
Gould Park Entrance at Washington Avenue off Ashford Avenue
Dobbs Ferry, NY 10522-3315
County: Westchester
Region: Lower Hudson
Date(s)
September 18, 2022, 1:00PM
Details
Event Type
Historic Site Tour/History
Description
The Dobbs Ferry Road to Freedom Walk begins at 1:00pm at Gould Park, Dobbs Ferry. It commemorates a turning point in the Revolutionary War when on August 19, 1781, the Continental Army under George Washington departed their encampment in our area to march 400 miles to attack the British army at Yorktown, Virginia. The program continues at 2:00pm at the Mead House, 12 Elm Street, Dobbs Ferry. The Road to Freedom Walk is a program of the Dobbs Ferry Historical Society. We thank the principal sponsors of the event, Tensor Foundation and the Maurice D. Hinchey Hudson River Valley National Heritage Area.
Sponsoring Organization
Dobbs Ferry Historical Society
Contact Information
dfhistory@optimum.net
(914)674-1007
Additional Information
Activities:
After an opening ceremony at Gould Park, fife and drum reenactors and the 2nd New York Regiment will lead the march following the route of the Continental Army on Sunday, August 19, 1781. We stop at the Little White Church Cemetery for a short ceremony to honor the veterans buried there. The procession then continues along the route of the army, heading west on Ashford Ave and then right onto Broadway to Landing Drive. We then turn back along the Aqueduct to the Mead House, home of the Dobbs Ferry Historical Society. The program on the grounds of the Mead House includes a surgeon with a display of surgical tools and a butter-churning demonstrator. Members of the 2nd NY will drill new recruits, display items used by soldiers, and explain their role in the service of the army. A lady of the period will demonstrate 18th century fashion and makeup. Children can play colonial games. There will be intermittent short performances with fife and drum, and an opportunity to take an 18th century country dance lesson. The program is free, and refreshments will be served.
Additional Equipment Required:
comfortable walking shoes
Event Duration (hours):
3
Family Friendly
Barrier Free or Wheelchar accessible?
Portion
Additional Wheelchair Info:
The second part of the program on the lawn of the Mead House is more accessible than the Walk.