Events
If you haven't already submitted your event, click here. Also, stay tuned with all that is going on in the Hudson Valley with the Hudson River Valley Greenway and National Heritage Area newsletter!
Attention:
- All Mandeville House Tours have been CANCELED.
- Olana's Mingled Flower Garden Tour will now be taking place on September 1st rather than September 21st.
- The Piermont Station Museum will be CLOSED September 8th.
- Sail Through Art History on September 15th has been CANCELED.
Collar City Ramble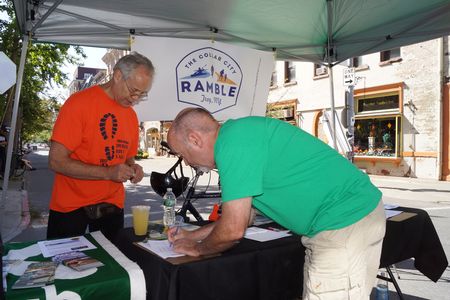 Location
Collar City Ramble Table at the Troy Waterfront Farmer's Market
Second Street and Broadway
Troy, NY 12180
County: Rensselaer
Region: Upper Hudson
Date(s)
September 28, 2019, 9:00AM, to 2:00 PM
Details
Event Type
Fairs and Festivals
Description
Explore Troy's urban trails by foot, bicycle, water, or whatever in this alternate transportation festival. Discover places you have never seen! The Collar City Ramble covers Troy in ways that anyone can find to enjoy. Celebrate the historical, the undeveloped, the waterways, and the recently uncovered located in our urban areas, with a tour group or independently with materials from the booth. Find information from how to share the roads to how to engage in geocaching. The details of the Collar City Ramble's guided tours are listed separately.
Sponsoring Organization
Transport Troy
Contact Information
CollarCityRamble@gmail.com
518-274-3050
https://www.facebook.com/CollarCityRamble/
Additional Information
Additional Equipment Required:
Required equipment depends on the activity.
Event Duration (hours):
5
Family Friendly
Wheelchair Accessible
Barrier Free or Wheelchar accessible?
Portion
Additional Wheelchair Info:
Access to the booth is wheelchair accessible. Access of tours varies.