Events
Stay up to date, by signing up for our newsletter.
Capital Apple And Wine Festival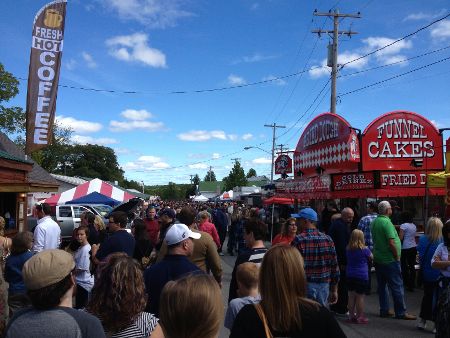 Location
Altamont Fairgrounds
Rte. 146 and Altamont Street
Guilderland, NY 12084
County: Albany
Region: Upper Hudson
Date(s)
September 16, 2023, 10:00AM, Rain or shine
September 17, 2023, 10:00AM, Rain or shine
Detailed Times/Hours
10-5 Saturday and Sunday, Rain or shine, wine tasting 100% indoors.
Details
Event Type
Fairs and Festivals
Description
Sometimes a name fails to describe the event and that is certainly the case with this show. Given that the event was previously owned by Altamont Orchards, apples were and are still an integral part of the show. After parking their cars, customers are ushered into a large barn that houses arts, crafts, specialty foods, and apples. This serves as the shopping component, and an opportunity for the public to buy directly from the maker. After exiting the Marketplace, one follows a path lined with more booths also offering their wares for sale. Along the way there will be juggling acts and a wandering magician, and even a stage for music. Then, the appetizing cider donuts and cider from Altamont Orchards in addition to a dozen food booths and food trucks offering steak, fries, BBQ, potato pancakes, sausage and onions, Mid-Eastern food chicken kebabs, falafel, tempeh Reuben sandwiches, lemonade, ice cream, pizza, and a lot more. And then the New York Wine and Spirits building and tent, which requires proof of age. where customers receive a commemorative tasting glass and can proceed to sample and taste wines and spirits from 25 NY producers. Usually there is an incredible amount of buying as the customers purchase their favorites. There is a $7 entry fee for the wine tasting. Further along there is a fantastic Kids Zone with bouncy houses, climbing walls, games, bow and arrows, and educational exhibits with live owls and hawks. That is on one side of the path, and on the other is a Car Show on Saturday. More than 500 cars are expected to participate. Sunday is rain date. NOTE: New in 2023 LIVE MIUSIC at 1 and 3 both days. After all that, there's the road back, passing all the booths and entertainment, until, finally, The Marketplace barn, making last minute purchases, buying some apples, and heading home after a fun filled day.
Organization Hosting the Event
StarBird Events
Phone Number
802-585-1830
Registration
Adult Admission $10, Youthn17 and under free Wine and Spirit Tasting $10 additional at gate
Additional Information
Additional Equipment Required:
NO
Event Duration (hours):
7
Not suitable for children under age 4.
Family Friendly
Wheelchair Accessible
Barrier Free or Wheelchar accessible?
Portion
Additional Wheelchair Info:
Some of terrain is gravel walkway