Events
For the first time ever, the Hudson River Valley Ramble is hosting a Photo Contest during the Ramle in September. The Photo Contest challenges event participants to capture the most spectacular moments, natural landscapes, wildlife, historic landmarks, and more. Participants can win prizes and have their photos showcased in next year's Ramble Guide. Visit the Ramble Photo Contest webpage for more info.
Stay up to date, by signing up for our newsletter.
Appalachian Trail Hike to the Iconic Dover Oak, learn about epic Arbor Day Volunteer Project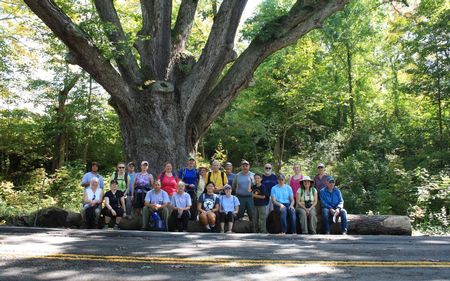 Location
MetroNorth RR AT Station Stop
991 Route 22
Pawling, NY 12564
County: Dutchess
Region: Mid Hudson
Date(s)
September 22, 2018, 10:00AM
Details
Event Type
Walk/Hike
Description
The hike starts at the Appalachian Trail Boardwalk, west of the MetroNorth RR AT station stop, which is just south of Native Landscapes, 991 Rt 22. We will hike west (southbound,) across the 1600' boardwalk which was finished in 2012. It spans the Great Swamp, New York State's third largest freshwater wetlands. A bridge at the end takes you over the Swamp River and you'll head up through a forested hillside. At the top of Corbin hill, the path opens onto farmlands and follows along the perimeter of one of the fields. Heading off the hill, you will arrive at the Dover Oak on West Dover Road in Pawling. This magnificent landmark is over 300 years old, and with a 20' circumference. It is reportedly the largest tree on the 2180 mile footpath from Georgia to Maine, and is on the NYS "Big Tree" Registry as the largest White Oak. For more information: harlemvalleyat@gmail.com On Instagram: @harlemvalleyatcommunity
Organization Hosting the Event
Harlem Valley Appalachian Trail Community
Phone Number
212-410-7817
Additional Information
Moderate ascent/descent
Additional Equipment Required:
Water, bug spray, sun screen, snacks
Event Duration (hours):
3
Difficulty:
Moderate
Not suitable for children under age 6.
Length (miles):
4
Boots Needed:
No
Family Friendly
Walking Distance to Amtrak or Metro North Station
Barrier Free or Wheelchar accessible?
No