Events
We look forward to an exciting 21st annual Hudson River Valley Ramble in 2020!
9th Annual Kayaking 4 Meso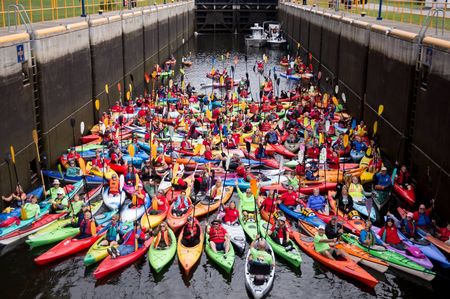 Location
Halfmoon Lighthouse Park
589 Hudson River Rd
Waterford, NY 12188
County: Saratoga
Region: Upper Hudson
Date(s)
September 7, 2019, 9:00AM, Check in starts at 7:00 AM
Details
Event Type
Paddle
Description
This is an 8 mile paddle to raise awareness and donations for Mesothelioma research. All proceeds are donated to the Mesothelioma Applied Research Foundation
Sponsoring Organization
Mesothelioma Applied Research Foundation
Contact Information
markwells@kayaking4meso.org
518-495-6099
https://www.facebook.com/Kayaking4Meso.org/
Registration
Advance registration required.
Please register by August 17th, 2019 Register at www.Kayaking4Meso.org Email: markwells@kayaking4meso.org
$35.00 registration fee $50.00 after August 17th, 2019
Additional Information
This is an eight mile paddle thru the Flight of Locks on the Erie canal and then up the Champlain Canal to the Halfmoon Lighthouse Park. We launch from the Flight Lock Rd Boat Launch in Waterford, NY. This is about a 7.5 mile paddle as we go thru 6 locks. We paddle together in a group and are escorted by the NYS Police. PFD's are required.
Activities:
Festivities from 1:30 - 4:00 at the Halfmoon Lighthouse Park. Food and refreshments will be available. Shuttle buses available in the morning.
Additional Equipment Required:
Participants will need a kayak, paddle and PFD. Kayak rentals available thru Upstate Kayak Rentals.
Event Duration (hours):
4 -5
Difficulty:
Moderate
Not suitable for children under age 10.
Length (miles):
8
Boat:
You must provide your own boat.
Family Friendly
Barrier Free or Wheelchar accessible?
Yes