Events
We look forward to an exciting 21st annual Hudson River Valley Ramble in 2020!
10th Annual Prostate Walk-across the Hudson River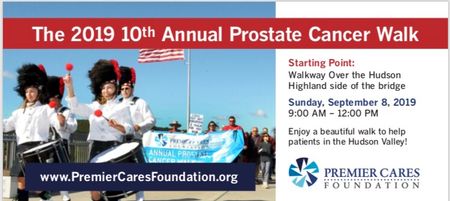 Location
Walkway Over the Hudson
Walkway over the Hudson state park
HigHland, NY
County: Ulster
Region: Mid Hudson
Date(s)
September 8, 2019, 9:00AM
Details
Event Type
Walk/Hike
Description
Join hundreds of people as we come together to fight prostate cancer and support those who have been affected by it. Together, we will walk the span of the majestic Hudson River and return to the Highland side for a small celebration. This is an exhilarating and beautiful Hudson Valley tradition. Join us and soak up the views of the Hudson Valley, the River, and the magnificent landscape!
Sponsoring Organization
Premier Cares Foundation
Contact Information
Scapozzoli@premiercaresfoundation.org
845.481.0535
Premiercaresfoundation
Registration
Advance registration required.
Register online at premiercaresfoundation.org Register at the door too!
$25 per person includes admission, giveaways, entertainment, and a "care bag" loaded with goodies!
Additional Information
The Walkway Over the Hudson is high above the water, but safe and beautiful.
Additional Equipment Required:
No.
Event Duration (hours):
1
Difficulty:
Easy
Length (miles):
2
Path:
Returns to start
Boots Needed:
No
Family Friendly
Barrier Free or Wheelchar accessible?
Yes