Events
If you haven't already submitted your event, click here. Also, stay tuned with all that is going on in the Hudson Valley with the Hudson River Valley Greenway and National Heritage Area newsletter!
Attention:
- All Mandeville House Tours have been CANCELED.
- Olana's Mingled Flower Garden Tour will now be taking place on September 1st rather than September 21st.
- The Piermont Station Museum will be CLOSED September 8th.
- Sail Through Art History on September 15th has been CANCELED.
Troy Public Library: An Italian Palazzo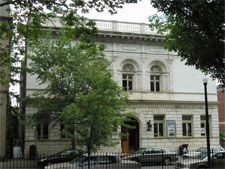 Location
Troy Public Library
100 Second Street
Troy, NY 12180
County: Rensselaer
Region: Upper Hudson
Date(s)
September 22, 2019, 12:00PM
Details
Event Type
Historic Site Tour
Description
The Troy Public Library tour will be led by Suzanne Spellen, a renown architectural historian, who blogs as Spellen of Troy. The exterior, interior, and history of the building will be the focal points of the building tour. Designed to be both a library and art gallery, the American Renaissance style building was completed in 1897. View behind the scene areas that are not open to the public. Learn about the recently located documentation of the purchase of the priceless Aldus stained glass window from Tiffany.The beautiful setting provided by the building enhances the experience of library users.
Sponsoring Organization
Troy Public Library
Contact Information
troyref@thetroylibrary.org
518-274-7071
https://www.facebook.com/TheTroyLibrary/
Additional Information
Event Duration (hours):
1
Family Friendly
Wheelchair Accessible
Barrier Free or Wheelchar accessible?
Yes