Events
If you haven't already submitted your event, click here. Also, stay tuned with all that is going on in the Hudson Valley with the Hudson River Valley Greenway and National Heritage Area newsletter!
Attention:
- All Mandeville House Tours have been CANCELED.
- Olana's Mingled Flower Garden Tour will now be taking place on September 1st rather than September 21st.
- The Piermont Station Museum will be CLOSED September 8th.
- Sail Through Art History on September 15th has been CANCELED.
History Tour of Untermyer Gardens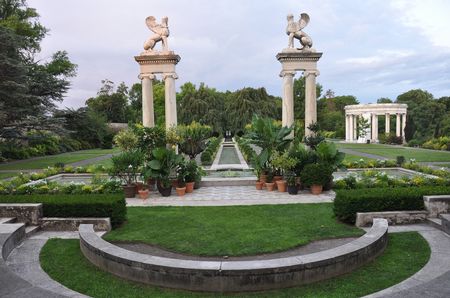 Location
Untermyer Park and Gardens
945 North Broadway
Yonkers, NY 10701
County: Westchester
Region: Lower Hudson
Date(s)
September 1, 2019, 11:00AM
September 15, 2019, 11:00AM
Details
Event Type
Historic Site Tour
Description
This tour highlights the history of the estate from its origin in 1862, through each of its three owners, emphasizing its world famous heyday in the Untermyer years, its dramatic decline after 1940, and the remarkable restoration efforts that have been ongoing from 2010 to the present day. There will be an emphasis on Samuel Untermyer and his wife and their place in early 20th century history as well as discussion of the remarkable architecture of the gardens. There will be some limited discussion of the horticulture but the magnificent plantings will mostly speak for themselves. Please join us near the 945 North Broadway Parking lot for a 90 minute tour of the gardens. No reservations are required. Children twelve and under are free. As the tour goes down the steps of the Vista and then back up a woodland path to the Temple of Love, we suggest sturdy shoes. Strollers are not advised for the tours.
Sponsoring Organization
Untermyer Gardens Conservancy
Contact Information
gardens@untermyergardens.org
914 613 4502
https://www.facebook.com/UntermyerGardens/
Registration
$10
Additional Information
Event Duration (hours):
1.5
Family Friendly
Walking Distance to Amtrak or Metro North Station
Barrier Free or Wheelchar accessible?
Portion
Additional Wheelchair Info:
The Walled Garden portion of the tour is accessible.