Events
Geology Hike of Olana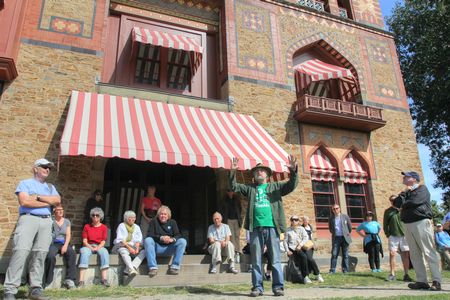 Location
Visitor Center
5720 Rte 9G
Hudson, NY 12534
County: Columbia
Region: Upper Hudson
Date(s)
September 24, 2016, 3:00PM
Details
Event Type
Walk/Hike
Description
Join Hartwick College Geology Professor, Robert Titus, on Olana's East Lawn, to learn about the geological history of Olana. The hike will also explore the natural forces that shaped Frederic Church's artist-designed landscape. With Titus as your guide, science meets storytelling. We will hike about 1.5 miles followed by healthy seasonal snacks.
Sponsoring Organization
The Olana Partnership
Contact Information
eschanz@olana.org
5188281872 x 105
www.facebook.com/olanaSHS
Registration
Member: Free, Non-Member: $5
Additional Information
Wide, well-groomed gravel carriage roads. Some low-grade ascents/descents and uneven terrain.
Activities:
Guided House Tours 10 AM - 1 PM, Self-Guided House Tours 2 PM - 3:30 PM, Historic Landscape Tour 11:15 & 2:15 PM. Please visit the Book a Tour Page at www.olana.org to make your tour reservations.
Additional Equipment Required:
Suggested: Good walking shoes, waterbottle, and sunscreen.
Event Duration (hours):
2
Difficulty:
Moderate
Not suitable for children under age 5.
Length (miles):
1.5
Path:
Returns to start
Boots Needed:
No
Family Friendly
Barrier Free or Wheelchar accessible?
No