Events
We look forward to an exciting 21st annual Hudson River Valley Ramble in 2020!
Exploring Eternity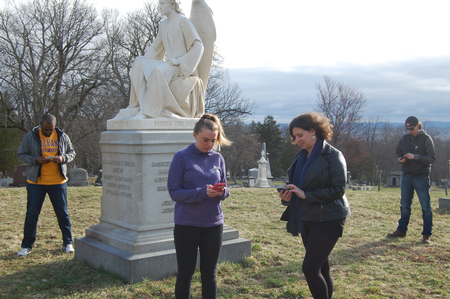 Location
Albany Rural Cemetery,
Cemetery Avenue
Albany, NY 12204
County: Albany
Region: Upper Hudson
Date(s)
September 28, 2019, 2:00PM, Rain Date October 5, 2:00p
Details
Event Type
Historic Site Tour
Description
Public demonstration of the Albany Rural Cemetery Explorer, a cell-phone-based technology, using Geographic Information Science (GIS). The program enables visitors to walk from grave to grave, linking sites to portraits, biographies and burial records of the deceased and currently covers 90 individuals, family plots, and monuments. The app has been developed by faculty and students of the University at Albany's Geography and Planning Department, with financial support from the Bender Family Foundation. Some of those highlighted include: Chester A. Arthur, 21st President of the United States; Kate Stoneman, the first female lawyer in New York State; Captain Samuel Schuyler, black pioneer, and shipping company owner; Stephen Van Rensselaer III, founder of Rensselaer Polytechnic Institute; Dr. Alden March, founder of Albany Medical Center; Erastus Dow Palmer, world-renowned sculptor; Erastus Corning II, Mayor of Albany; James Burden, owner of Burden Iron Works and allowed the first women's union; and Margarita "Peggy" Schuyler, one of the "Schuyler Sisters," highlighted in the Broadway Musical Hamilton In the event of rain, an alternative date is the following Saturday, October 5, from 2:00 pm - 4:00 pm.
Sponsoring Organization
University at Albany Department of Geography and Planning | Albany Rural Cemetery
Contact Information
aenfield@albany.edu
518-210-2792
Registration
Advance registration required.
https://www.eventbrite.com/e/exploring-eternity-tickets-63066087365
Additional Information
Additional Equipment Required:
smartphone
Event Duration (hours):
2
Not suitable for children under age 1.
Family Friendly
Barrier Free or Wheelchar accessible?
Yes