Events
We make every effort to ensure accuracy of event listings. However, due to weather and other factors, information may change between the time of publication and the time of each event. We strongly encourage all participants to verify dates and times with the listed trip leader for each event.
Kites Over The Hudson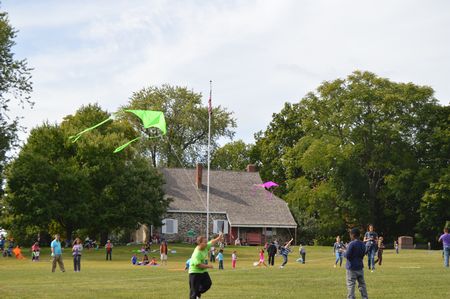 Location
Washington's Headquarters State Historic Site
84 Liberty St.
Newburgh, NY 12550
County: Orange
Region: Mid Hudson
Date(s)
September 24, 2016, 2:00PM, 2pm - 4pm
Details
Event Type
Fairs and Festivals
Kites Over The Hudson
Description
Come fly a kite and add some color to the majestic Hudson River's breathtaking view. The first 150 children under the age of 15 will receive a free kite and prizes will be awarded in various kite-related categories. Museum admission and admission to the headquarters used by General and Mrs. Washington during the last days of the Revolutionary War is free, thanks to the support of Central Hudson and the Friends of the State Historic Sites of the Hudson Highlands. Call 845-562-1195 for further details or directions. Family friendly
Sponsoring Organization
Washington's Headquarters State Historic Site
Contact Information
elyse.goldberg@parks.ny.gov
845-562-1195
https://www.facebook.com/WashingtonsHeadquarters
Additional Information
Activities:
Washington's Headquarters will be open from 11am until 5pm. Take a tour of the historic Hasbrouck House, and explore the Museum including the multi-award winning exhibit, "Unpacked & Rediscovered: Selections from the Washington's Headquarters' Collection."
Additional Equipment Required:
No
Event Duration (hours):
2
Family Friendly
Barrier Free or Wheelchar accessible?
Portion
Additional Wheelchair Info:
Park with various levels of accessible paths. Museum 1st floor accessible. Hasbrouck House accessible. No accessible rest rooms.